Treat the families we work with like our own families.
Listen and understand our client's needs first.
Consult and educate on all available solutions.
Provide affordable solutions that delight our clients.
Go above and beyond the work we are asked to provide.
Do the job right, every time.
Who We Are
LiveWell is the trusted aging in place expert in Metro Houston. We not only provide mobility equipment, but also expertise in home remodeling, ADA, and universal design standards to truly transform the homes of seniors. LiveWell's team of technicians are trusted craftsman that provide quality home modifications that improve safety and accessibility and allow seniors to remain independent.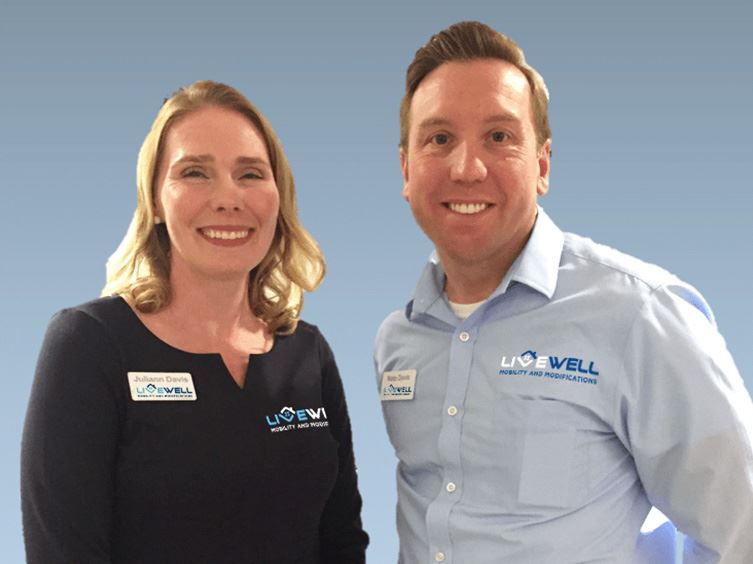 Juliann, a Licensed Clinical Social Worker with a Masters Degree in Social Work and Business Administration, has worked with the senior population her entire career. She has experience in hospital, home health, hospice, community, and counseling settings working directly with seniors as a social worker. She has frequently experienced the unmet needs of seniors that are trying to age independently at home.
Nate, an engineer with a Master's Degree in Mechanical Engineering and Business Administration, has a career working directly with clients with a consultative approach. He has over 15 years of experience in residential remodeling, residential construction, and property management. He is experienced in universal and ADA design standards, technology implementation, and smart home solutions. He has successfully led teams in product development, technical and customer service, and business operations all focused on putting customer's needs first.
The LiveWell Team consists of factory-trained technicians, installers, carpenters, plumbers, electricians, and general home maintenance professionals. All of the team members are professionals that pass an extensive background check and proudly treat LiveWell's clients like they treat their own families – with caring respect and compassion.