Stairlift Services in Houston
Installing and Repairing Stairlifts in Houston, Galveston, and the Surrounding Areas
Stairlifts are one of the most common home mobility modifications, and it's easy to see why. These convenient lifts allow you to take the same path through your home that you've always taken, just with a little extra help. With their compact and adaptable designs, it's easy to fit a stairlift into any home, onto any type of staircase. There are even options for outdoor stairlifts available, so you can still enjoy your patio or terrace. If your stairs have become your new worst enemy, LiveWell Mobility and Modifications can help you win the battle for good with our stairwell services.
If you feel like a stairlift could help you stay mobile and independent, we can help you get one installed. Call our Houston office at (281) 771-1469 today for a free estimate!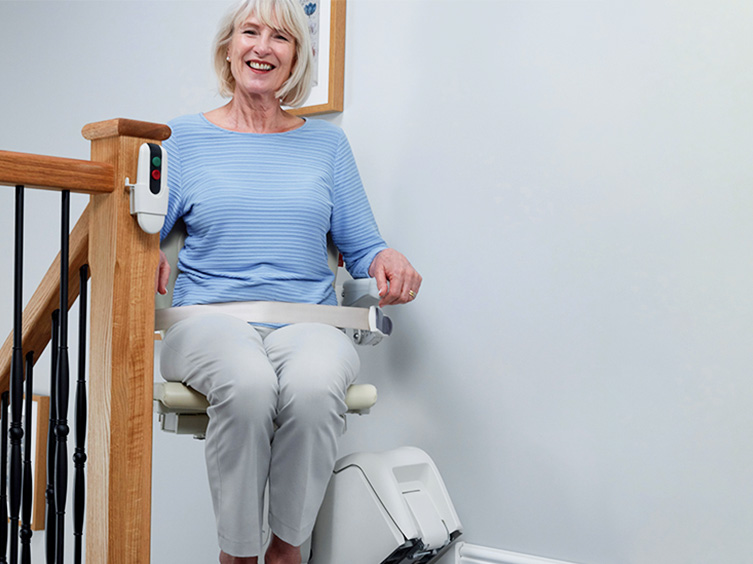 WHICH STAIRLIFT IS BEST TO HELP YOU REMAIN IN THE HOME YOU LOVE?
You might not know what you need in a stairlift yet. Fortunately, you've come to the right place! See our stairlifts, explore your options, and if you still have questions, ask for a free consultation to get personalized advice.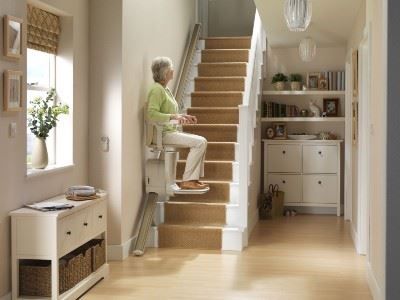 STAIRLIFTS FOR
STRAIGHT STAIRS
For a single flight of stairs
Single, elegant, and customizable rail
Fixed on the steps, as well as the walls
Folds away neatly so they don't obstruct your stairs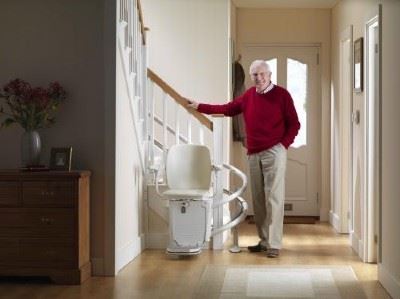 STAIRLIFTS FOR
CURVED STAIRS
Including narrow or steep spiral staircases or with several landings
Millimetric photo survey for a perfect fit
Park next to stairs, leaving clear access for others
Fixed to the steps or walls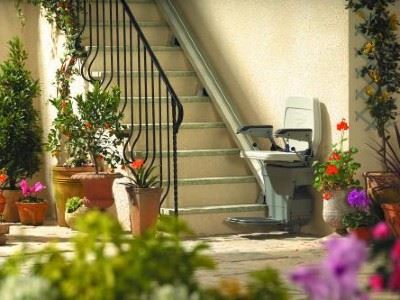 STAIRLIFTS FOR
OUTDOORS
Made to withstand wet and cold climates
Robust and completely snow-resistant and waterproof
Always clean and dry, thanks to the waterproof cover
Comes with security keys to prevent misuse
Have Questions? We've Got Answers!
Frequently Asked Questions
ARE YOU AT RISK OF INJURING YOURSELF?

Avoid falling and injuring yourself with a stairlift.
Once we get to a certain age, our bodies start to take longer to recover from injuries. A small injury now could cause you pain for years to come.

DO YOU NEED HELP CLIMBING THE STAIRS?

Get your independence back with a stairlift.
Give your loved ones back their peace of mind, too. You're both putting yourselves in danger on the stairs when there's a much safer option.

MY STAIRS ARE EXTREMELY NARROW. CAN YOU STILL FIT A STAIRLIFT?

We've seen a lot of stairs in our time, and our manufacturers have worked hard to make our stairlifts as adaptable as possible, which is why we're pretty sure that even if you have the narrowest of stairs, we can install a stairlift on them. If you're still not sure, give us a call. We'll send an advisor over to your house for free to have a look at your stairs and tell you your options. Giving you free information and advice with no strings attached is part of our service – take advantage of it!

DO YOU HAVE A STAND/PERCH STAIRLIFT?

Yes, we do. We have the exact midpoint between a perch seat and a chair, allowing you to take the weight off your legs while staying upright. Perfect for people with limited mobility in their hips and knees, it'll carry them up the stairs effortlessly, at the push of a button. Added safety features like anti-slip ridging on the seat and an ergonomic seatbelt will give you a feeling of complete safety. A feeling that will leave you feeling like the master of your home again. If this sounds like the right option for you, give us a call today to schedule your home visit.

CAN STAIRLIFTS GO AROUND BENDS IN THE STAIRS?

Yes, they can. There are two types of stairlifts, straight and curved. During your home assessment, we will measure your stairs to find out which would fit best. Then, when you order your stairlift, the precise measurements of your staircase are sent to the factory where work begins on your rail. You'll love the rails for curved stairs: they take up as little space on your stairs as possible, by fitting them as close to the edge of your stairs as we can; as smooth as possible, to give you a smoother ride; easily installable, by making a scale model of your stairs in our factory, so we can make sure it fits before it leaves us. Want to find out more about what makes our curved rails different? Call us today.

HOW MUCH DOES INSTALLATION COST?

It's free. At LiveWell Mobility, we don't do things by halves. Our job is only done when you have your stairlift fully installed by a trained professional, and they've made sure you're comfortable using the perfect stairlift for you. That's why we don't charge for installation. We also know that by installing it ourselves, your stairlift will meet all the health and safety regulations it was built to meet and that you can be as safe as possible on your staircase. Give us a call now to find out what else we offer as part of our service.

CAN I RENT A STAIRLIFT?

Yes. Stairlifts are sold and rented. If you're only going to need a stairlift for a short amount of time, a rental could be exactly what you need to get you moving again. To find out about rental options, give us a call. We're sure our free installation and removal, and free maintenance throughout your rental period* will live up to your expectations!

WHAT'S THE PRICE OF A STAIRLIFT?

The price of a stairlift depends on many factors. Some of those factors are related to your personal needs, and others are determined by what your stairs are like. We're here to help you determine all of those factors, and we consider it to be part of our service, to give you free, no-obligation information about the best stairlift to suit your needs. When you book a home visit we come to your house to find out about you and give you all the information you need, as well as an accurate quote for what you need. Call us now to schedule your visit and find out the price of the stairlift to fit you and your house.
More Common Questions
Is a Stairlift the Right Choice for You?
If you're worried about tripping and falling on the stairs, putting unnecessary stress on your joints, or lacking the physical ability to navigate stairs, a stairlift could be the perfect solution. You won't have to leave your home or restrict your activity to downstairs rooms – your stairlift will allow you to easily move between levels without risk. And your loved ones will enjoy the peace of mind that a stairwell brings.
Options for straight, curved, and outdoor stairs
Can be installed quickly with minimal construction
Fold away neatly or park conveniently next to your stairway so they don't obstruct your stairs
Equipped with safety sensors and seatbelts
Swivel to exit for maximum comfort and convenience
Whether you're already enjoying the many benefits of a home stairlift or ready to install one in your home for the first time, you can call LiveWell Mobility and Modifications at (281) 771-1469 or reach out to us online for professional stairlift services in Houston, Galveston, or any of the surrounding areas!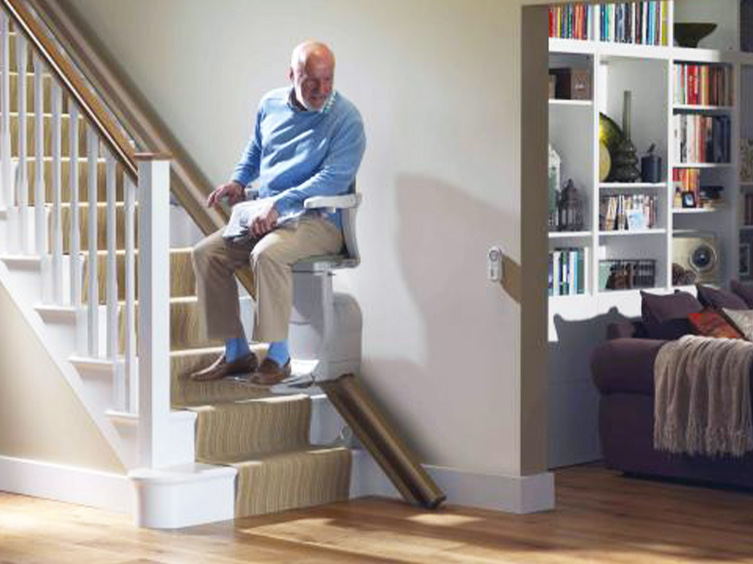 Making Your Home or Commercial Property More Adaptable and Accessible to Fit Your Changing Needs
Highly Recommend!

"LiveWell Mobility and Modifications is an overall great company! The owner, Nate, is incredibly knowledgeable and upfront about prices and the services they deliver. Their communication about all installations was delivered in an understanding manner. They went above and beyond to ensure my experience was superb."

- Sydney H.

Friendly staff!

"Professional, quality work, affordable, good people. If that's what you are looking for, then call LiveWell Mobility and Modifications. They will give you an honest answer and do what is best for your situation. I highly recommend!"

- Shana B.

Highly Recommend!

"As the manager of a senior homecare company, I've used my share of aging in place / home modification specialists through the years. LiveWell Mobility is the best to date."

- James K.

Knowledgeable and Reliable

"My husband is happy that Nate and his team were able to provide all accommodations prior to his discharge from the hospital. Even if we have a hurricane, I know those grab bars will still be mounted forever!"

- Jayne M.

Great Service!!

"If you, or someone you know, has a relative who would like to age at home, Livogis can help them make that happen. They are wonderful and will take great care of your loved one. Technology and care is a winning combination!"

- Joann C.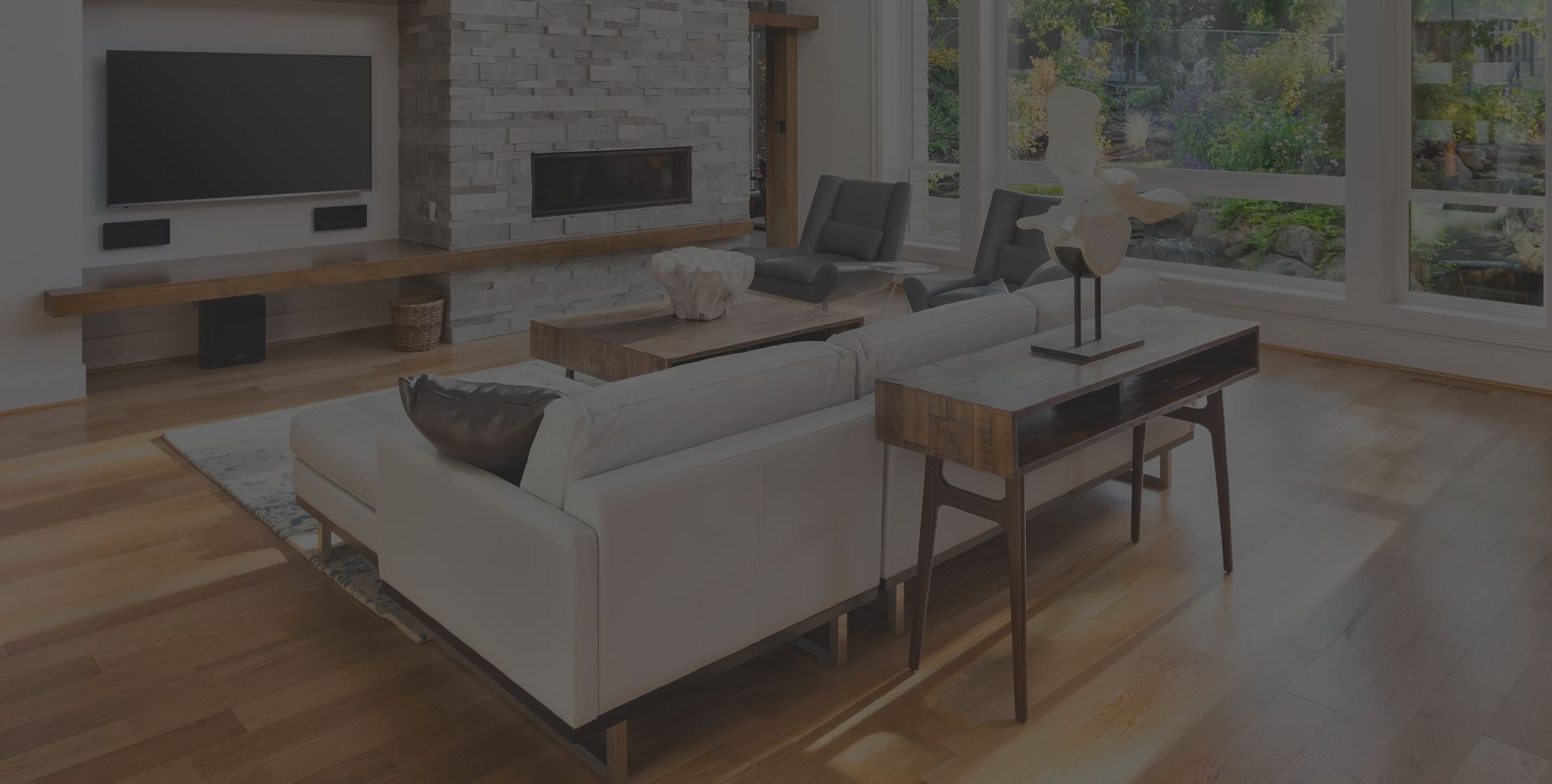 Ready to Get Started? ASK FOR A FREE CONSULTATION TODAY