Vehicle Lift Services in Houston
Making Vehicles Accessible for Residents of Houston, Galveston, and the Surrounding Areas with Limited Mobility
Your new wheelchair or scooter can get you far, but it can't take you everywhere. You may find that you still need to use a car to get groceries, et to appointments, or just get out and see the world. But whenever you get there, you'll still need your mobility device, and you may need help transferring between your device and your vehicle. That's where our vehicle lifts come in. With multiple mounting options, a vehicle lift from LiveWell Mobility and Modifications allows you to easily take your mobility device with you wherever you go. Installation is fast and easy, and our payment options make installing a vehicle lift possible on any budget.
Make sure you and your mobility devices can get where you need to go quickly and comfortably – call (281) 771-1469 today for a free vehicle lift estimate from LiveWell Mobility and Modifications in Houston!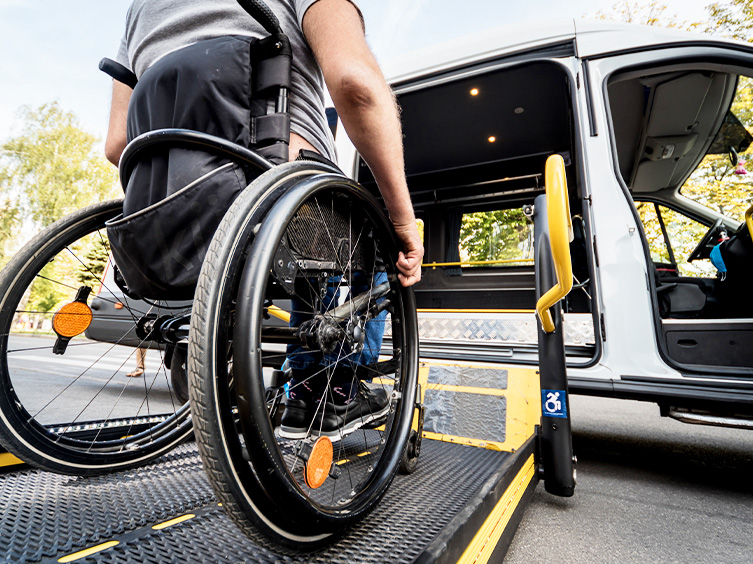 How Can We Help Transport Your Mobility Equipment?
We provide a variety of solutions for transporting your wheelchair, scooter, or power chair in your own vehicle. We provide the convenience of sending our technicians to YOUR HOME for installation. No need to drop off your vehicle at some inconvenient time.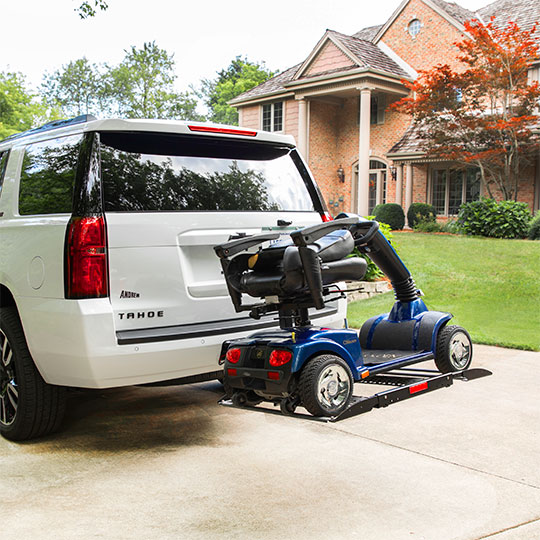 HITCH-MOUNTED
LIFTS
Lifts that conveniently mount to an existing or new trailer hitch
Electric or Manual Lifting
Swing-away options make access to the rear easy
Lightweight ramps to full range lifts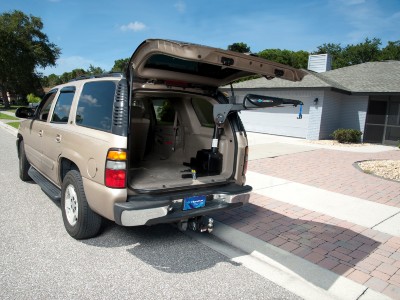 INTERIOR TRANSPORT
LIFTS AND HOISTS
For transporting your mobility device inside your vehicle
Stores the mobility device out of the weather
Doesn't add to the overall length or decrease maneuverability of the vehicle
Ideal for SUVs, vans, and crossover vehicles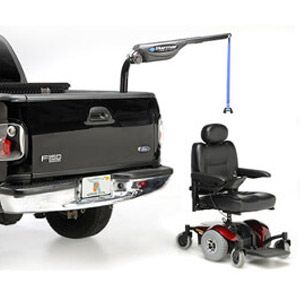 TRUCK BED
LIFTS
Mounts in the bed of a truck
Reduces the need to walk to the rear of the vehicle
Easy to operate
Improve maneuverability of vehicle
Have Questions? We've Got Answers!
Frequently Asked Questions
HOW DO I SCHEDULE INSTALLATION OF THE VEHICLE LIFT?

We make this very simple. Just call LiveWell and we will find a convenient day that we can come to your house for installation. You don't need to bring your vehicle to us!

WHERE DOES MY LIFT GET ITS POWER?

Typically, the lift is wired directly to the vehicle's battery for power. A secondary option is to order an optional battery supply to keep the unit independent from the battery.

WHAT IF I DON'T HAVE A TRAILER HITCH?

If you have an SUV, van, or crossover vehicle, an inside lift may be a good solution. Otherwise, we can refer you to some vehicle modification partners that can install a hitch on your vehicle.

HOW MUCH ROOM DOES THE HITCH MOUNTED LIFT TAKE UP? CAN I PARK MY VEHICLE IN MY GARAGE?

Many of the lifts fold up out of the way to reduce the overall length of the vehicle. We can work with your specific vehicle and the proper lift to advise on the overall impact of the lift.

IS MY TRAILER HITCH RATED FOR THE WEIGHT OF MY MOBILITY DEVICE?

Livewell's Accessibility Consultants can help you determine if your hitch has the proper weight rating for your mobility device.
More Common Questions
Hitch-Mounted Lifts – Mounted to a new or existing trailer hitch, these lifts allow you to easily store your scooter, wheelchair, or other mobility devices at the rear of your vehicle and fold away when not in use.
Interior Lifts and Hoists – Interior lifts help you easily store your mobility devices in the truck of your vehicle, away from the weather, without affecting the visibility or maneuverability of the driver.
Truck Bed Lifts – An easy-to-operate solution for truck drivers who need to switch from their truck to a mobility device.
Find out what kind of vehicle lift is the right fit for your lifestyle when you call (281) 771-1469 or chat with us online – we're here to help all of our customers in Houston, Galveston, and the surrounding areas stay in motion!
How Can a Vehicle Lift Help Me Stay Independent?
When you first get your driver's license, it feels like the whole world has opened up for you, and losing the ability to drive due to your mobility device can make you feel incredibly limited. A vehicle lift can make it easy for you to continue driving, and you won't have to struggle to load and unload your mobility device between trips. You won't need to rely on accessible transportation services or busses to get where you need to go, because you'll e able to use your car as needed without worrying about your chair or scooter.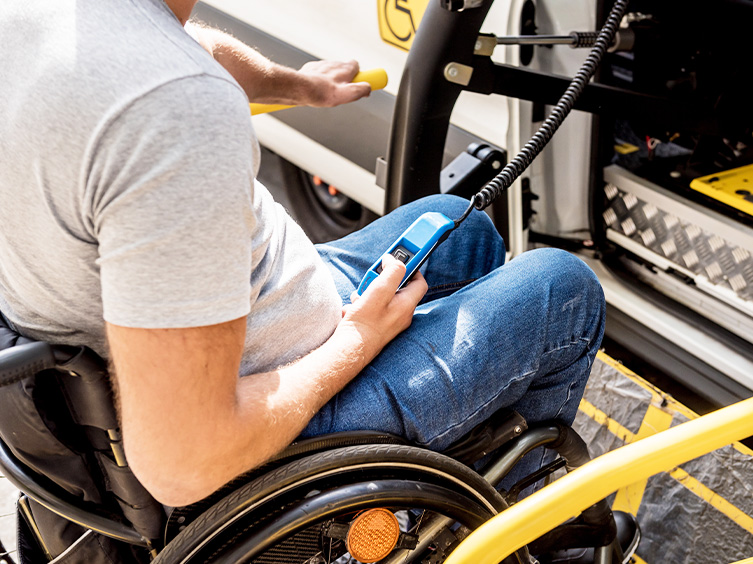 Making Your Home or Commercial Property More Adaptable and Accessible to Fit Your Changing Needs
Highly Recommend!

"LiveWell Mobility and Modifications is an overall great company! The owner, Nate, is incredibly knowledgeable and upfront about prices and the services they deliver. Their communication about all installations was delivered in an understanding manner. They went above and beyond to ensure my experience was superb."

- Sydney H.

Friendly staff!

"Professional, quality work, affordable, good people. If that's what you are looking for, then call LiveWell Mobility and Modifications. They will give you an honest answer and do what is best for your situation. I highly recommend!"

- Shana B.

Highly Recommend!

"As the manager of a senior homecare company, I've used my share of aging in place / home modification specialists through the years. LiveWell Mobility is the best to date."

- James K.

Knowledgeable and Reliable

"My husband is happy that Nate and his team were able to provide all accommodations prior to his discharge from the hospital. Even if we have a hurricane, I know those grab bars will still be mounted forever!"

- Jayne M.

Great Service!!

"If you, or someone you know, has a relative who would like to age at home, Livogis can help them make that happen. They are wonderful and will take great care of your loved one. Technology and care is a winning combination!"

- Joann C.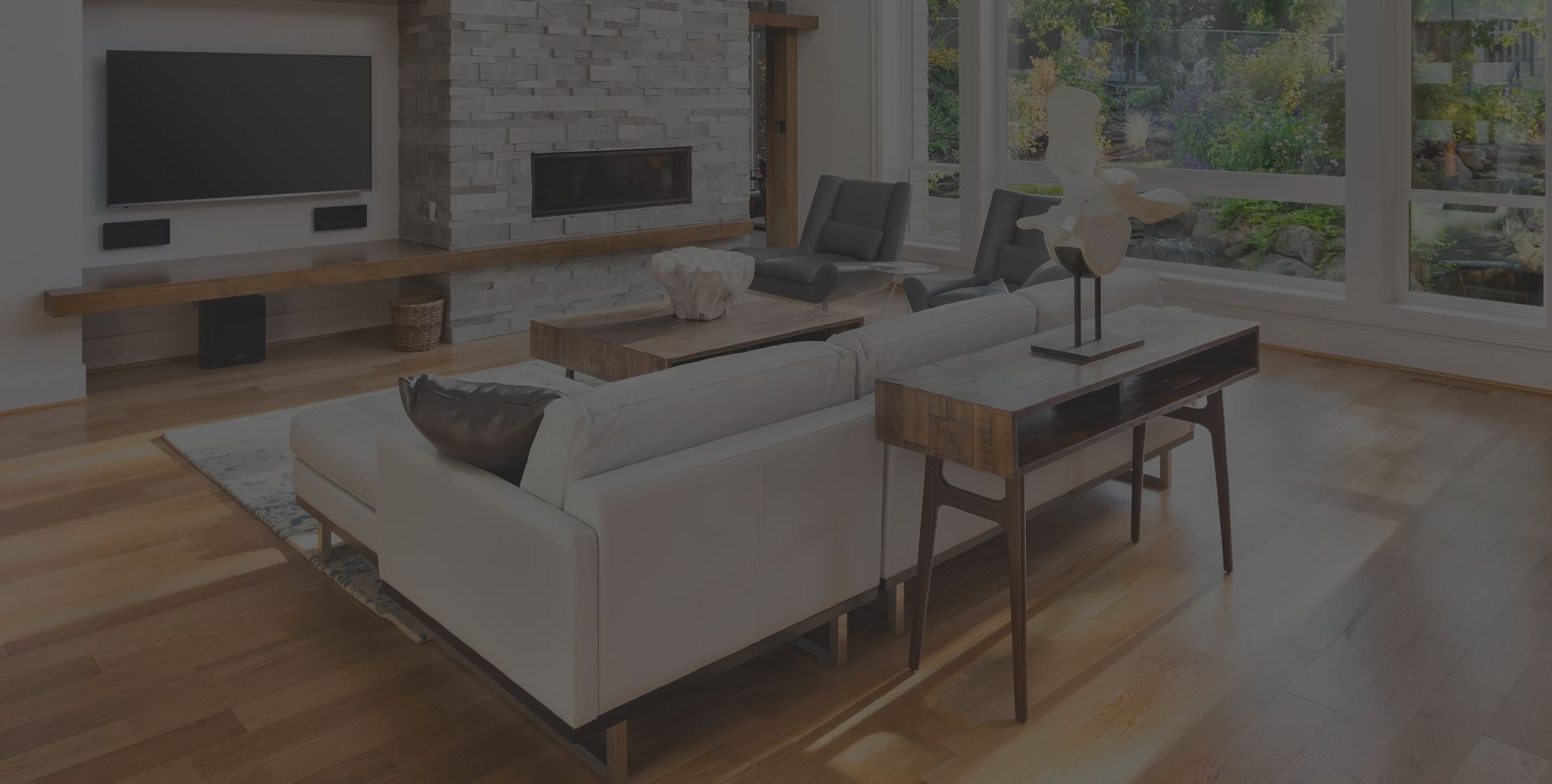 Ready to Get Started? ASK FOR A FREE CONSULTATION TODAY