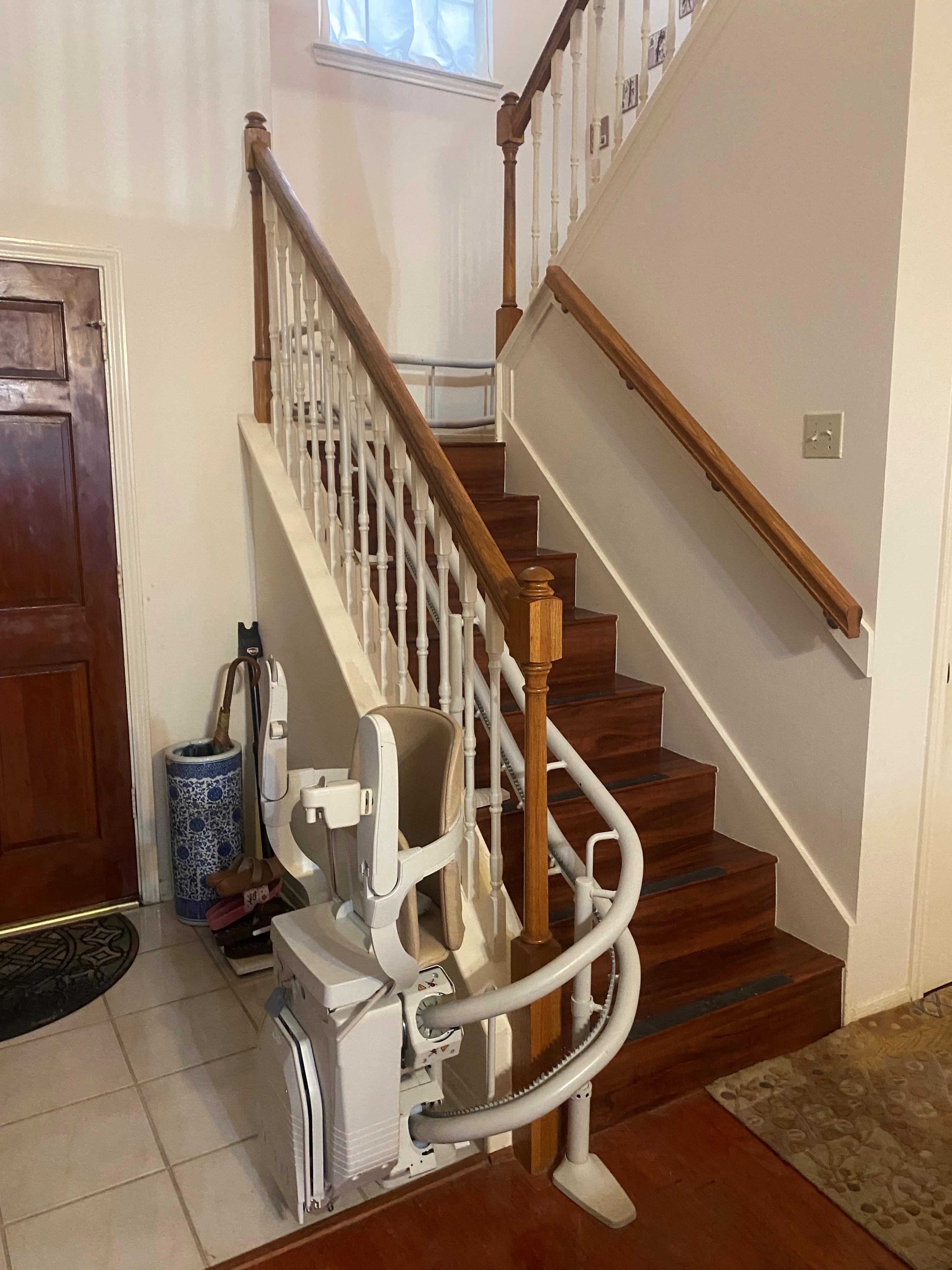 Whether you are planning to age in place or are struggling with mobility issues now, a stairlift is the perfect addition to your home. If you struggle to go up and down the stairs or are afraid of a fall on the stairs, a stairlift can provide a huge sense of freedom in your very own home. A stairlift is a device that you sit in that safely transports you from one floor to the other on a rail system. With a stairlift you do not have to rely on others to help you up and down the stairs. 
On top of being a convenience in the home, we also put together these top 5 reasons for adding a stairlift to your home:
1. Stairlifts Can Help Prevent Accidents
The primary advantage of a stairlift is the ability to prevent accidents on the stairs. Did you know that a stair related injury occurs in the United States every 30 seconds? That's terrifying! Stairlifts can help to eliminate these dangerous falls. Stairlifts allow for a safe trip up and down and come equipped with many safety features. They have seatbelts and alarms and will stop if there is an obstacle in the way of the lift. The track can also be extended past the stairs so that you aren't entering or exiting the lift on the actual stairs. 
2. Stairlifts Do Not Require a lot of Space
Many people may imagine a huge bulky obstruction mounted to their stairs when they think of a stairlift, but that is not the case! Stairlifts are designed to use the smallest amount of space possible and can be custom fitted to your particular staircase. LiveWell also has stairlifts that have a track or rail that can fold up on the ends to prevent any tripping hazards in a walkway. The seat on the stairlift also folds up so that it is tucked neatly against the wall when not in use. 
3. Stairlifts are Easy to Operate
There are no complicated controls when operating a stairlift! You simply sit down in the seat, buckle the seat belt, and everything is controlled smoothly by a simple joystick at your fingertips. The seats are super comfortable with armrests for a relaxing ride up and down. LiveWell's team of experts can show you how easy it is to use one of our stairlifts and are always available afterwards for any questions that may arise. 
4. Stairlifts are Available for Any Budget
The main reason that people do not consider a stairlift is that they believe a stairlift to be too expensive or out of their budget. That's just not the case. Thankfully, stairlift installation in Houston may be more cost effective than you think. Our team of Accessible Consultants and experienced stairlift technicians can work with you to find an affordable solution that is right for your home. 
5. Stairlift Installation Is Not One Size Fits All
Stairlifts come in many different sizes and styles. Indoor, outdoor, straight stairs, curved stairs, we have seen it all! LiveWell has installed stairlifts on staircases with multiple landings and turns. We offer customized stairlifts that will fit your staircase perfectly, as no two staircases are the same!
LiveWell's full line of stairlifts offers many different options and styles to choose from so that the stairlift blends into the design of your home. Our Accessibility Consultants can help you to choose the best fit for your stairs and your needs. We also have some stairlifts in stock and installation is quick! Give us a call today to discuss your home and to see if LiveWell's stairlifts are the right fit for you. 
Click here to read more blog posts or to see some of our stairlift installation projects.