Most people want to stay in their homes as long as possible. Trouble is, their homes may not be aging as well as they are. Take the bathroom. Because of its hard and slippery surfaces, almost 235,000 people visit the emergency room each year with injuries suffered while bathing, showering, or using the facilities. Despite that, many homeowners resist even small changes that would make the room safer because they fear their beautiful bathroom will end up looking institutional.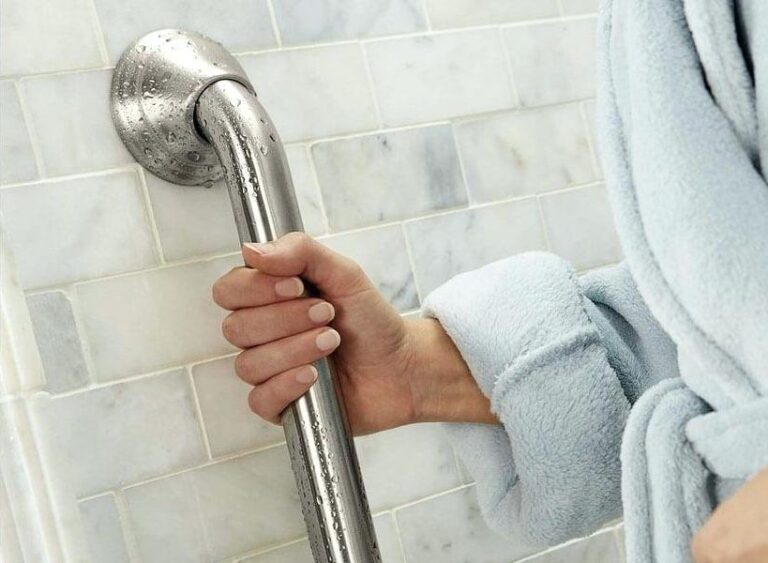 When people think of bathroom grab bars, they picture what they've seen in hospitals – harsh, metal pieces that can be cold to touch. But there is good news! LiveWell Mobility and Modifications has many styles, colors, and materials for our grab bars and we will gladly assist you in finding the best grab bars for your needs.
A grab bar is a supportive rail that is typically attached to the bathroom wall and can assist a user in transferring more easily and safely into and out of the bathtub or shower or maneuvering onto and off of the toilet. Grab bars also provide additional support when washing in the bath or shower and are a simple cost-effective way to reduce slips and falls on wet floors.
Grab bars are usually bolted into the wall and can support up to 300 pounds. Ideally, permanent grab bars should be secured to the studs in the wall.  However, often times the studs do not allow for proper placement for adequate safety.  In those cases, LiveWell utilizes specialized hardware that allows a grab bar to be installed safely in just about any location.  When a wall is not available, LiveWell also provides free-standing grab bars that can be placed in almost any location providing a secure handhold near glass shower doors or even in the middle of a room.
Either way, grab bars provide a significant safety improvement over bathrooms without grab bars. Grab bars provide good hand holds for anyone who is a bit unsteady on their feet and allows for users to be more independent in the bathroom than they would be without the help of grab bars.