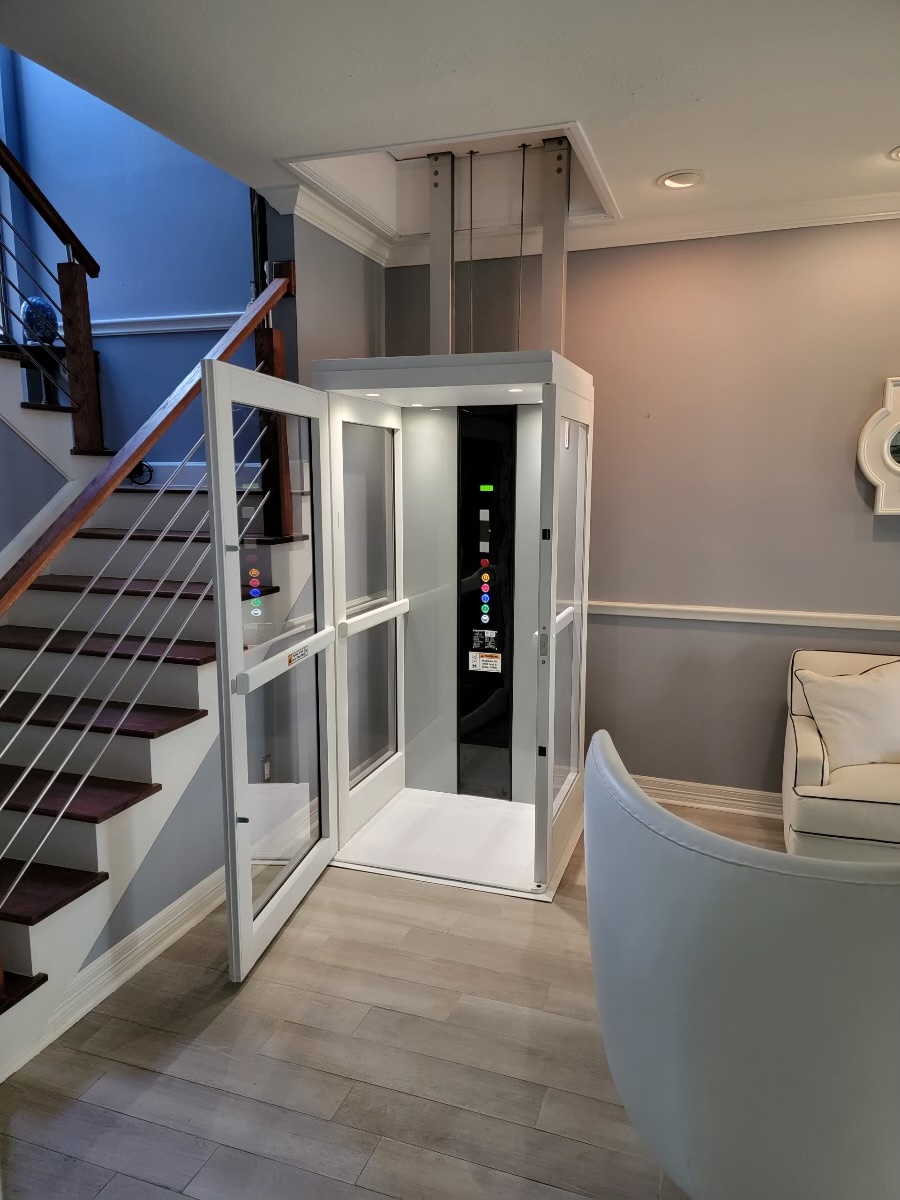 Most people buy a home without ever considering whether or not they will still be living in that home when they reach their retirement age. For individuals living with mobility issues, they can have issues accessing more than one level of their home. Stairlifts are a great solution, but they aren't always the answer for everyone. But no worries...there is an alternative! Home elevators or lifts are an excellent solution. Below we are going to explain what a through-the-floor elevator is and how they work. 

What are through-the floor-elevators?
A through-the-floor elevator is a smaller version of a standard elevator. It has the smallest footprint of any elevator in your home. It allows you to travel up and down to various floors throughout the home.  They are one of the easiest and most cost-effective types of elevators that you can install, and the installation/construction period is much shorter. The space saving design of a through-the-floor elevator will not take up extensive amount of floor space or become a barrier on your stairs. Because of this, they can blend in or become a focal point in your home. The choice is yours! 
How Do Through-the-Floor Elevators Work?
Through-the-Floor elevators work like traditional home elevators, but on a much smaller scale. Most can hold up to two people or a capacity of about 500 lbs. This allows for mobility equipment to also be used in the elevator. The elevators use electricity and hydraulic drives to power the elevator. 
A small hole is cut in the ceiling and the unit is installed to move up and down between floors through the opening. The location of the elevator is crucial and depends on the design of your home and the mobility needs of the homeowners. Some elevators are installed beside stairs so that they are conveniently located, and others are tucked out of the way. 
Through-the-floor elevators operate with a push of a button, and they are equipped with sensors. The sensors stop the unit if they detect something obstructing its operations. Lights, an alarm, and the ability to be manually lowered in case of a power outage is all standard. 
What are the Benefits of Through-the-Floor Elevators?
Installing a through-the-floor elevator in your home can change how you move throughout your home on a daily basis. I can improve your quality of life. Here are some of the top advantages:
- It's safer than using the stairs
- You can easily access all levels of your home
- You don't have to get on and off of your mobility devices to access the elevator
- They are easy to use and can be installed in almost all home types
- They have a very small footprint in your home and take up very little space
Learn More About Through-the-Floor Elevators
Have you been considering installing an elevator in your home? Our team of accessibility consultants would love to talk with you and answer any questions that you may have. Please give us a call today! 
To Read Additional blog posts or see recent projects, . 
-