Though most things in life are not guaranteed, you can bet that as the years pile up you
will notice physical changes that are a guaranteed part of aging–joints stiffen, vision diminishes,
hearing decreases, and muscles weaken. With the normal aging changes, it may become
difficult or painful to climb and descend stairs. Being able to remain at home is very important
for most seniors. When stairs become a challenge rather than looking to sell your home for a
single-level ranch, consider the benefits of installing a stairlift. A stairlift can handle the main
safety concern of a multi-level home.
A stairlift is a piece of assistive technology, consisting of a chair that carries you safely up and downstairs, on a rail that is secured to your stair treads. There are typically three types of stairlift: stairlifts for straight stairs, stairlifts for curved stairs, and stairlifts for use outdoors.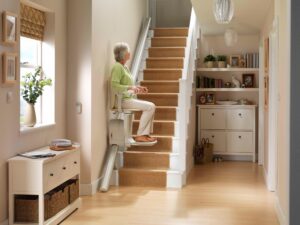 Stairlifts for Straight Stairs
–For a single flight of stairs
-Single, elegant, and customizable rail
-Fixed on the steps, as well as the walls
-Folds away neatly so they don't obstruct your stairs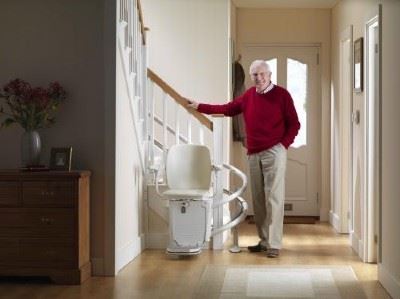 Stairlifts for Curved Stairs
–Including narrow or steep spiral staircases or with several landings
-Millimetric photo survey for a perfect fit
-Park next to stairs, leaving clear access for others
-Fixed to the steps or walls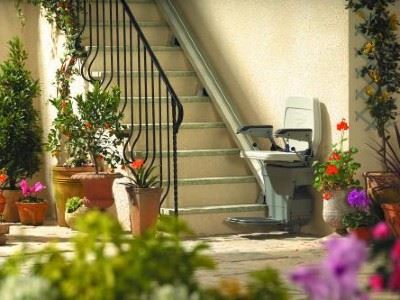 Stairlifts for Outdoors
–Made to withstand wet and cold climates
-Robust and completely snow-resistant and waterproof
-Always clean and dry, thanks to the waterproof cover
-Comes with security keys to prevent misuse
Stairlifts have innovative features which include safety sensors, easy seat belts, and a swivel to exit. The seat, armrests, and footrest also fold up or down so the stairlift doesn't interfere with regular use of the stairs. Other benefits of a stairlift include:
1. Cost effective
While the purchase and installation is an investment, it is far more cost-effective than engaging in large real estate transactions. There are many models available and if the time comes when you do want to sell your home, the stairlift is easy to remove.
2. Easy to Use
To use a stairlift you sit on the seat, put on the seatbelt, and hold a switch to go up or down the stairs. This switch is usually put on an armrest and must be held to advance the chair. If you stop holding it, the chair will stop.
3. Safe
A stairlift is safe to use and it reduces the risk of a fall when using the stairs is painful or difficult.
4. Allows for Independence
If you have needed help going up or downstairs a stairlift may allow you to navigate different levels of your home independently.
When you decide to purchase a stairlift you are making an investment in your wellbeing, safety, and independence. The price of a stairlift depends on many factors. Some of those factors are related to your personal needs, and others are determined by what your stairs are like.
Livewell Mobility and Modifications will help you determine all of those factors, and we consider it to be part of our service, to give you free, no-obligation information about the best stairlift to suit your needs. When you book a home visit, we come to your house to find out about you and give you all the information you need, as well as an accurate quote for what you need. Call us now to schedule your visit and find out the price of the stairlift to fit you and your house.