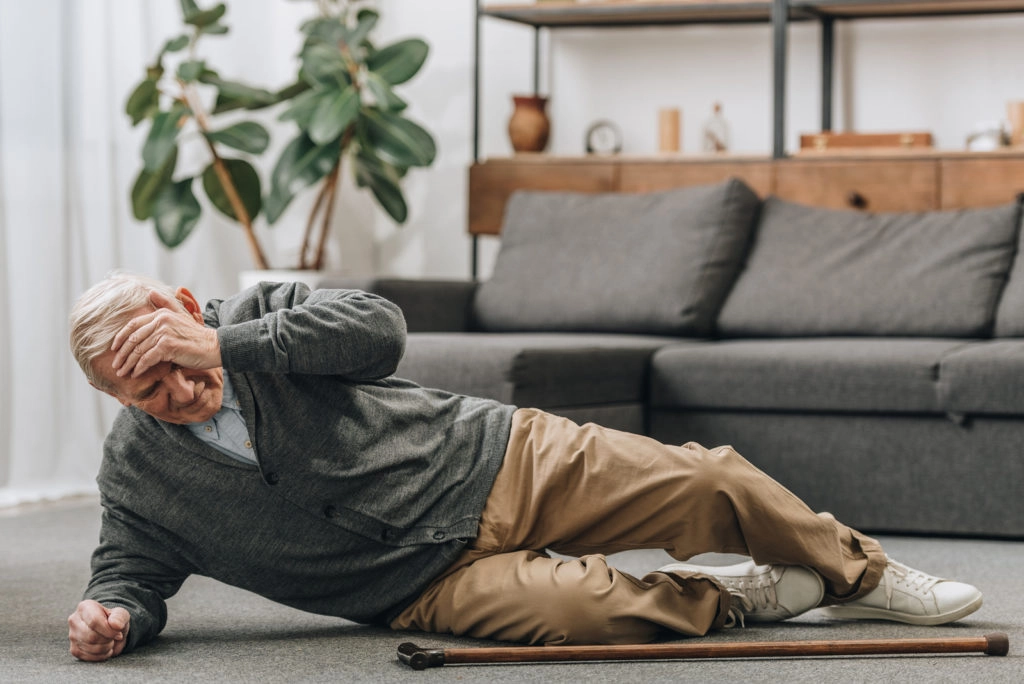 Falling is one of the primary causes of injuries among seniors at home. According to the CDC, about one third of seniors who are over 65 years old fall each year. Falls can happen for a wide variety of reasons. They frequently happen in the bathroom where slippery surfaces are involved. But it can also happen through a misstep or "clumsy" moment. Stumbling or tripping over items in the home is also another common factor that causes a fall. 
Falling is very dangerous for seniors because once a fall occurs, recovery can be very difficult. Not only is it extremely difficult for seniors to recover physically from a fall, but it's also very hard for them to deal with the fear of falling again. This may cause a perfectly healthy senior to limit his or her activities over the fear of another fall. They may limit themselves to one particular room of their home that has minimal fall hazards to avoid it happening again. This is detrimental to their mental and physical health! 
The good news is that we have compiled a checklist of ways that you can prevent a fall and also a list of products that can make your home a much safer place to age in place.
1. Exercise and Movement - The number one way to prepare or prevent an injury from a fall is to exercise. Gentle exercises such as walking, water workouts, or simple dance movements can help keep you strong and improve your flexibility. It also helps to improve your coordination and balance!
2. Improved lighting - Upgrading the light fixtures in your home and adding additional lights where it can be difficult to see can make all the difference in the world! Lighting up a space so that the homeowner can truly see where they are going is very beneficial. 
3. Grab Bars and Handrails - Installing grab bars and handrails in areas where extra support is needed is vital. Showers, in the toilet area, going down a small set of stairs, in a hallway - all of these are areas where a senior may need to hold onto something to steady themselves. Walk through your home and truly think about what areas could potentially be a concern for a fall and make note of it.
4. Move Items to an Easier to Reach Location - Straining to reach something high overhead or leaning over to grab something could result in a fall. This throws people off balance and can cause a senior to become unsteady on his or her feat. Move items so that they are easily in reach. Easy to access vanities in bathroom and lower cabinets in kitchens make life much simpler! 
5. Remove Clutter - This is such an easy change that can make such a difference! Removing clutter and getting rid of unnecessary items can take a way a huge majority of the tripping hazards in the home. Unnecessary furniture and other items that are never used should be removed. The items that stay should be stable with no sharp edges or corners. This reduces the chance of a serious injury in the case of an accidental trip.
6. Use the Right Footwear - Wear shoes that fit properly that also have non-skid soles. Make sure that shoe laces are always tied. Avoid walking in your socks or stocking feet. Slippers that are worn or stretched out should be replaced. 
7. Keep the Kitchen Tidy - Immediately cleaning up any spills is a great way to avoid falls. Keeping all cooking utensiles and food items safely within reach is beneficial. 
8. Remove all Rugs - Rugs look beautiful but they create a major tripping hazard for seniors. Remove all rugs unless they have a slip-resistant backing. Even then, we still recommend removing it. 
9. Improve the Safety of Your Bathroom - Modifying your bathroom to include raised toilets, a zero-entry shower and adding grab bars where needed can take a bathroom from safe to fully accessible quickly! 
10. Take Advantage of Products Designed for Seniors - Stairlifts, elevators, lift chairs, power scooters, and many other items are available to assist seniors with their goal of aging in place. LiveWell has a full line of products available to make your home a fully accessible, safe place so that you never have to consider moving from your home. 
Aging in place is a wonderful thing when the modifications that are needed to live safely and comfortably are made. If they aren't made, the home that you love can begin to feel like a prison. Growing older doesn't mean that you have to leave the home that you love. Give us a call today to schedule a free in-home consultation with one of our Accessibility Consultants! 
For more blog posts, click here: https://www.livewellmobility.com/projects-info/