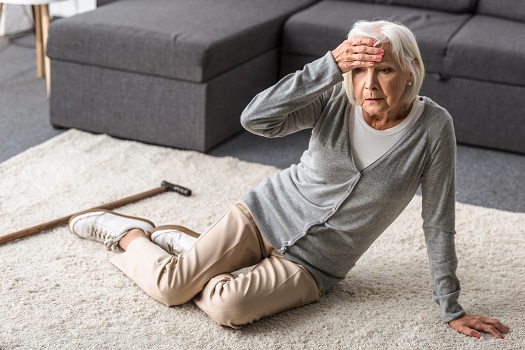 Falls are the leading cause of fatal and non-fatal injuries among older adults, leading to serious injuries and increased risk of additional falls. Because of this the NCOA has created the Falls Prevention Awareness Week.
Every year on the first day of Fall, the National Council on Aging (NCOA) turns a spotlight on falls prevention among older adults by launching its Falls Free Initiative. This is a national effort to address the growing public health issue of fall-related injuries and deaths among older adults. 
Facts and Challenges About Falling for Seniors
In research performed by the U.S. Centers for Disease Control and Prevention (CDC) and other falls research:
More than 1 out of 4 Americans aged 65 and older will fall each year.

Falls are the leading cause of fatal and nonfatal injuries among seniors.

The cost of treating injuries caused by falls is projected to increase to over $101 billion by 2030.

Falls result in more than 3 million injuries treated in emergency departments annually, including over 800,000 hospitalizations.

In 2015, the total cost of non-fatal fall injuries was $50 billion.

Each year about $754 million is spent on medical costs related to fatal falls.

For older adults in the U.S., fall death rates went up by 30% from 2007-2016, and researchers predict there will be 7 deadly falls every hour by 2030.

People with mild hearing loss are nearly three times as likely to fall, with each 10 decibels of hearing loss increasing falls risk.
Falls, with or without injury, also greatly impact a seniors' quality of life. A growing number of older adult's fear falling. Because of this, they limit their activities and social engagements. This can cause physical decline, depression, social isolation, and feelings of helplessness.
Because of all of these factors, the NCOA hosts Fall Prevention Awareness week to provide information, tools, and tips for older Americans to help prevent falls. In our next blog post, we will go through 6 steps on how to help prevent falls. 
Click here to read our next article.