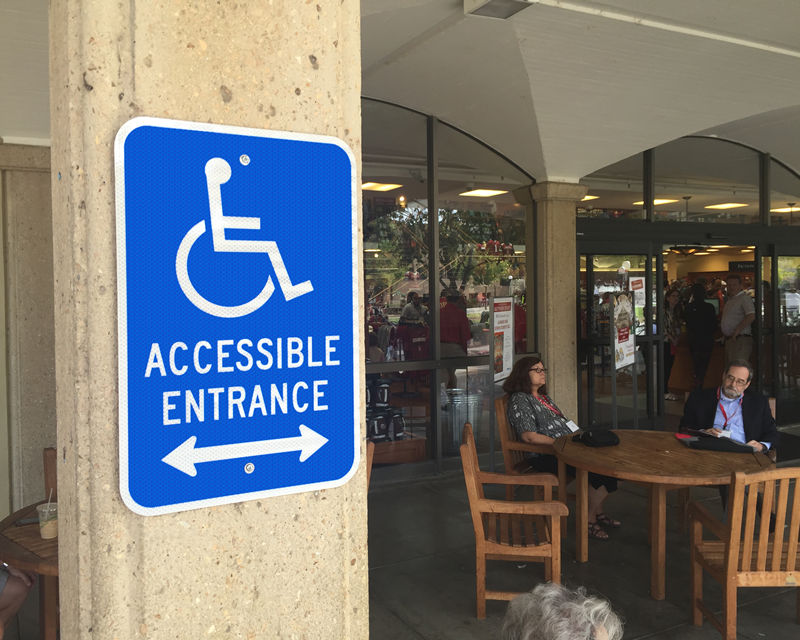 In 1990, the Americans with Disabilities Act (ADA) was signed into law. This civil rights law prohibits the discrimination against those with disabilities in all aspects of public life. This includes jobs, schools, transportation, and all public and private places that are open to the public. The sole purpose of this law is to make sure that people with disabilities have the same rights and opportunities as those that do not.
Title III of ADA focuses on nondiscrimination on the basis of disability by public accommodations and in commercial facilities. This title sets the minimum standards for accessibility for alterations and new construction facilities. This means that public businesses and buildings must remove all barriers to entry for those with disabilities. It directs businesses to make "reasonable modifications: to their way of doing business when serving those disabilities.
Here are a few things to consider when thinking about your modifying your business to meet the ADA's requirements:
- People with disabilities should be able to arrive on the site, approach the building, and enter as freely as everyone else.
- Modifications that should be made:
1. Installing accessible hardware on doors
2. Upgrading public and company bathrooms
3. Accessible Parking
4. Increasing the width of door frames to allow wheelchairs
5. Adjusting water fountains for all individuals, including wheelchairs
6. Replacing problematic flooring that may restrict or impede mobility
7. Railings or grab bars in appropriate locations
8. ADA handicap ramps or creating curb cuts at entrances/exits (up to 60% of entrances/exits must be ADA compliant)
9. Rearranging furniture, furnishings, and other features to reduce barriers to entry.
The ADA requirements for existing buildings are slightly different. Retrofitting and remodeling an existing building for ADA upgrades can be difficult and can require a significant amount of time and money.
Buildings built before 1990 face a different set of challenges. Title III states that there must be accommodations made for existing buildings to remove architectural barriers unless it can be shown that removing a barrier is not "readily achievable".
"Readily achievable" can be viewed in many different ways, but Title III describes it as "easily accomplishable and able to be carried out without much difficult or expense".
Also, there are suggestions given for how you can bring your existing business up to code:
1. Installing Ramps
2. Making curb cuts in sidewalks and entrances
3. Repositioning Shelves
4. Rearranging tables, chairs, vending machines, display racks, and other furniture
5. Repositioning telephones
6. Adding raised markings on elevator control buttons
7. Installing flashing alarm lights
8. Widening Doors
9. Installing offset hinges to widen doorways
10. Eliminating a turnstile or providing an alternative accessible path
11. Installing accessible door hardware
12. Installing grab bars in toilet stalls
13. Rearranging toilet partitions to increase maneuvering space
14. Insulating lavatory pipes under sinks to prevent burns
15. Installing a raised toilet seat
16. Installing a full-length bathroom mirror
17. Repositioning the paper towel dispenser in the bathroom
18. Creating designated accessible parking spaces
19. Installing an accessible paper cup dispenser at an existing inaccessible water fountain
20. Removing high pile, low density carpeting
21. Installing vehicle hand controls
This can be particularly difficult for small businesses. Please keep in mind that small businesses that employ 14 or fewer full-time employees do not have to be ADA compliant. Also, businesses that have been in operation for less than 20 weeks have a grace period to become compliant.
Failure to comply with ADA Building guidelines can lead to up to a $75,000 fine for a first-time violation. It can also lead to costly litigation if a lawsuit ever arose.
Thankfully, LiveWell Mobility can help! Our Accessibility Consultants are extremely knowledgeable to ADA standards and help get your business up to code quickly and easily. Give us a call today to schedule a free consultation.
For more blog posts, click here.